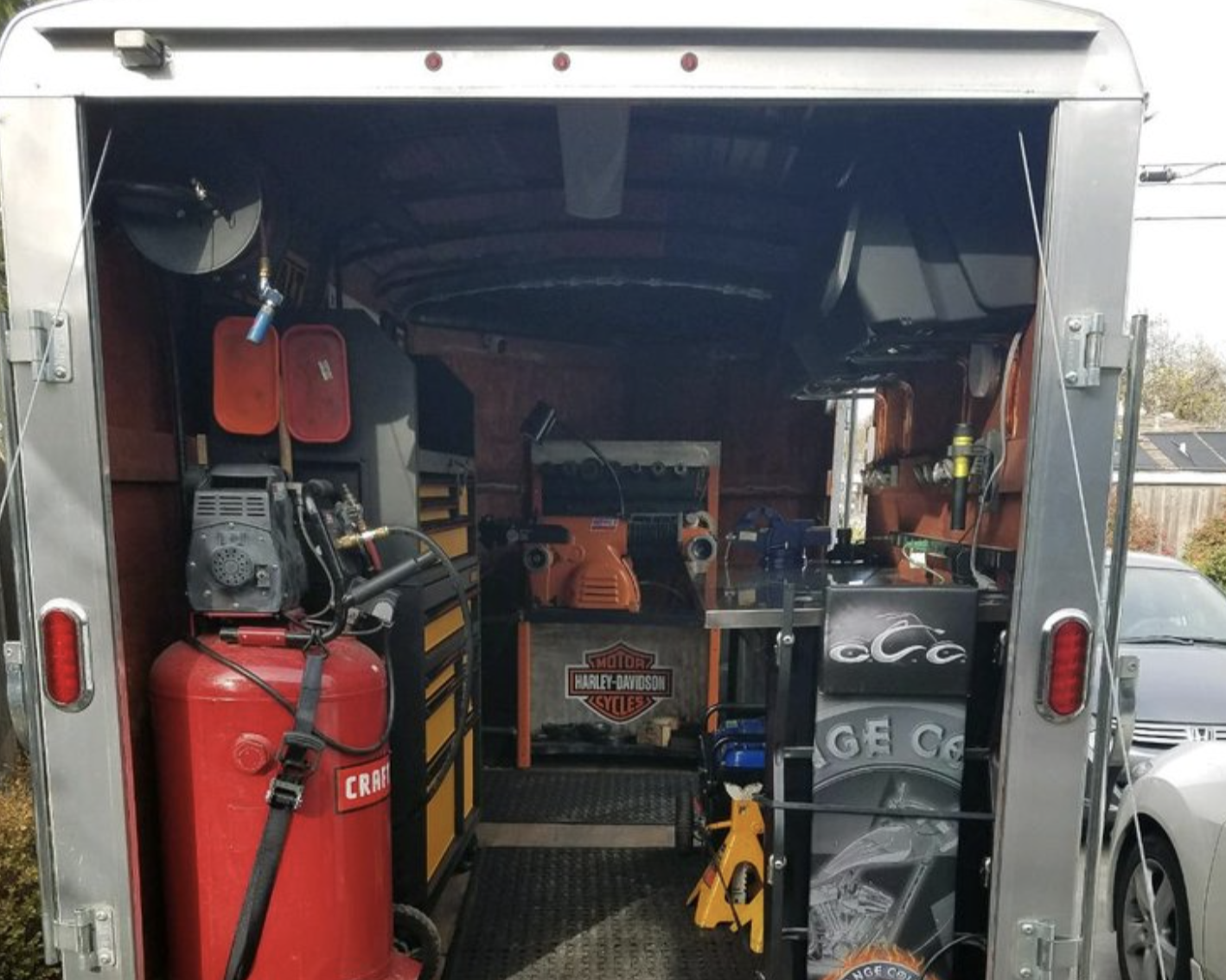 West Palm Beach Mobile Mechanic
What We Offer
West Palm Beach Mobile Mechanic offers a variety of comprehensive and convenient mobile mechanic services tailored to address diverse automotive repair and maintenance needs. Our services encompass on-site diagnostics, engine repairs, brake services, electrical troubleshooting, transmission repairs, and general vehicle maintenance. With a team of skilled technicians and well-equipped mobile units, West Palm Beach Mobile Mechanic delivers reliable and efficient solutions, providing our expertise directly to customers' locations in the West Palm Beach area.

Tire Replacement
Excellent tire replacement services to ensure your vehicle's safety and performance on the road.

Spark Plugs and Ignition Coil
Top-notch spark plugs and ignition coils to optimize your engine's performance and ensure reliable ignition.

Car Mechanic
Reliable car mechanics dedicated to diagnosing issues accurately and providing effective repairs.

Engine Repair
Fast engine repair services to diagnose and address issues, minimizing downtime and getting you back on the road sooner.

A/C Repair
Expert A/C repair services to ensure your comfort during hot days.

Brake Repair
Superb brake repair services to maintain the reliability and effectiveness of your vehicle's braking system.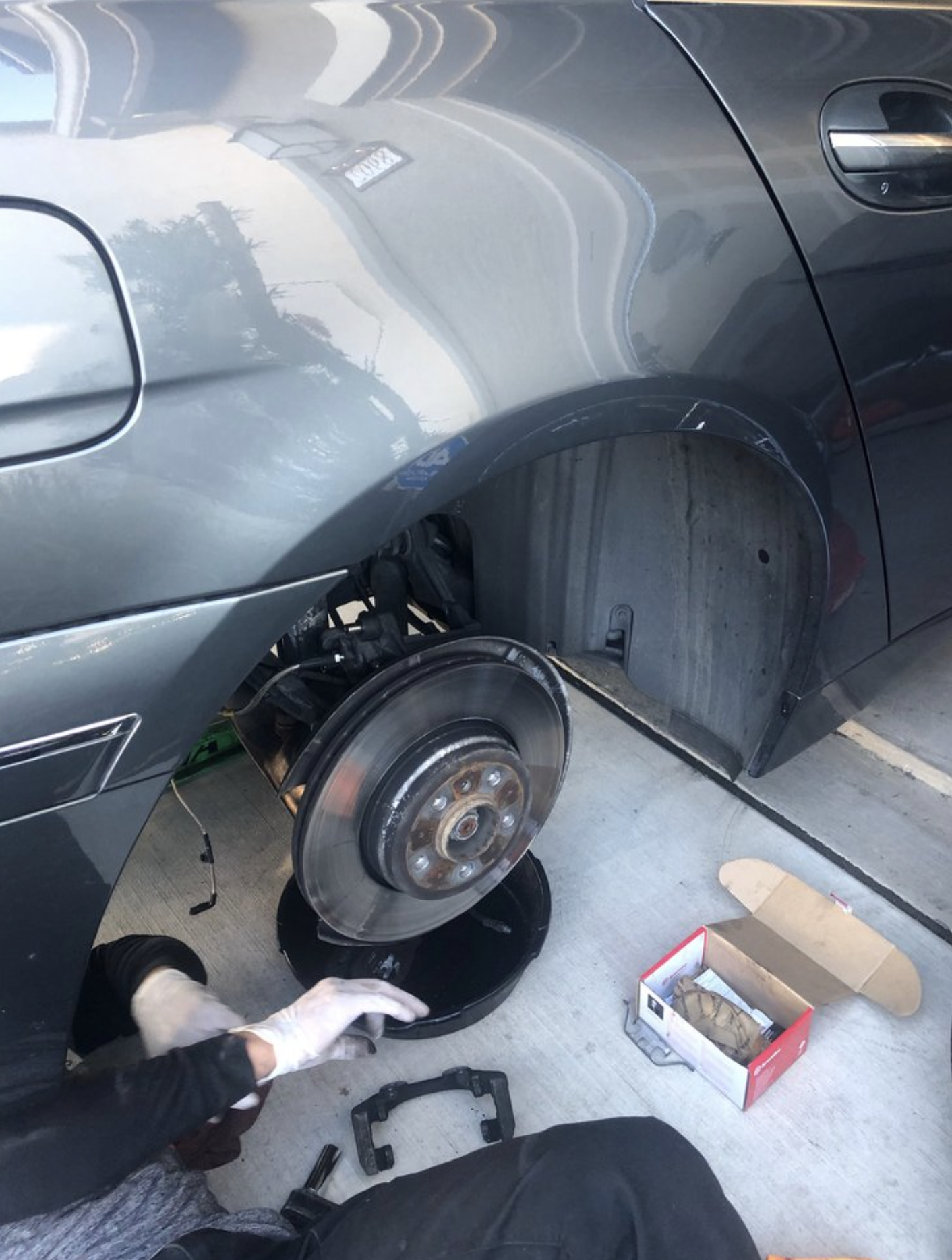 Expertise On the Go
Our team are seasoned professionals with extensive automotive knowledge. Equipped with the necessary tools and skills, we perform a wide range of repairs and maintenance tasks right on the spot.

Time and Effort Savings
Say goodbye to time-consuming trips to the auto shop. With West Palm Beach Mobile Mechanic, you save valuable time and effort. No more rearranging your schedule or waiting for hours in a traditional repair shop.

Transparent and Honest Pricing
Transparent pricing is a cornerstone of our service. You receive upfront quotes for the services you need, without hidden fees or unexpected charges. This commitment to honesty helps you make informed decisions about your vehicle repairs.
West Palm Beach Mobile Mechanic
West Palm Beach Mobile Mechanic presents itself as the ultimate answer for convenient and trustworthy on-site auto repairs in Palm Beach County. If you're seeking a prompt and effective way to get your vehicle up and running again, your search concludes here. Our exceptional range of services has firmly established us as the most prudent option to fulfill all your automobile requirements.
Our Services Include:
Engine diagnostics and repairs

Thorough tune-ups to keep your vehicle running smoothly

Swift and efficient oil changes to maintain engine health

Expert brake services to ensure your safety on the road

Comprehensive electrical servicing for a trouble-free driving experience
Demonstrating an unwavering commitment to achieving excellence, we proudly offer an all-encompassing array of services that tend to every facet of your vehicle's maintenance requirements. Our team of certified mechanics comprises devoted professionals who bring their specialized knowledge directly to your location.
Whether it's engines or tune-ups, oil changes or brakes, or even electrical maintenance, our coverage is comprehensive. Our service transcends mere car repairs; it's about bestowing you with a sense of tranquility and the certainty that your vehicle is in the capable hands of experts. Embrace the unmatched convenience provided by West Palm Beach Mobile Mechanic today – because our focus isn't solely on mending vehicles; it's on cultivating enduring trust with every customer we have the privilege to assist.
What Mobile Mechanics Offer
Upon learning about West Palm Beach Mobile Mechanic and how we facilitate the realm of car repairs for patrons throughout Palm Beach County, your first reaction is to slide away and wave goodbye. Maybe.
How can mobile mechanics surpass the proficiency of, let's say, a group of mechanics at a well-established garage? Are you guys seriously cooler than they are?
Well…yeah.
Our mechanics own complete certifications to undertake maintenance on cars, trucks, SUVs, cross-overs, and an assortment of other vehicles. They possess both the educational foundation and the hands-on expertise, even though conventional garages hold one advantage over us: pin-up calendars.
Admittedly, we don't typically bring such calendars to our work sites, but we do unequivocally spare you the inconvenience of dealing with matters such as:
Towing fees

Gambling on unknown or unestablished mechanics

Sitting in a garage waiting room while your car is worked on

Tearing off last month's calendar page
Therefore, should your vehicle display hesitance in departing from your driveway on a future occasion, take the initiative to dial our number. We'll be awaiting your call on the opposite end of the line, and in a matter of minutes, we'll arrive at your designated spot, fully equipped to provide the assistance you require.
Give us a call at (561) 331-5831!
Areas We Service
West Palm Beach Mobile Mechanic offers our expertise across a diverse array of locations, addressing the requirements of clients in and near West Palm Beach. Whether in bustling cityscapes or distant outskirts, we guarantee dependable car repair solutions, extending our skillset to customers across the neighboring areas.
West Palm Beach
Boca Raton
Delray Beach
Boynton Beach
Jupiter
Wellington
Palm Beach Gardens
West Palm Beach
Boca Raton
Delray Beach
Embark on a journey of unrivaled automotive attention via our incredibly convenient on-the-go vehicle repair service, accessible to you with just a simple phone call. Say farewell to the intricacies of arranging to tow your car to a distant repair facility or wrestling with a disabled vehicle while on the move. Our comprehensive mobile service adeptly transports the essence of a repair shop to your chosen location, consistently and seamlessly.
Our fleet of mobile trucks arrives equipped with cutting-edge tools and advanced technology, guaranteeing the provision of top-tier automotive care to our diverse clientele, irrespective of their vehicle's make and model. Whether the need pertains to routine maintenance, extensive repairs, or unforeseen roadside assistance, our proficient team of ASE-certified mechanics remains steadfast in delivering trustworthy and efficient service, an assurance upon which you can undoubtedly depend. Call us today at (561) 331-5831 and get free estimates today.
Onsite Engine Repair
West Palm Beach Mobile Mechanic derives satisfaction from delivering exceptional onsite engine repair services, catering to a diverse spectrum of challenges that might arise beneath the vehicle's hood. When complications arise within your vehicle's engine, our team of certified mechanics is primed to offer effective remedies that reinstate your confidence in hitting the road. From gasket malfunctions to obstructed fuel pumps, misfiring pistons to soiled spark plugs, and even glitchy sensor modules, our proficiency encompasses rapid diagnosis and resolution of these issues.
Our adept technicians bring their extensive expertise directly to your designated location, obviating the need to endure the inconveniences associated with towing your vehicle to a repair facility. Acknowledging that engine-related problems can disrupt your daily rhythm, we are steadfastly committed to providing timely and efficient repairs, ensuring your vehicle operates at its prime. Opting for West Palm Beach Mobile Mechanic for your engine repair requisites equates to choosing dependability, proficiency, and the ease of having your vehicle's heart reinstated right at your doorstep. Dial (561) 331-5831 now.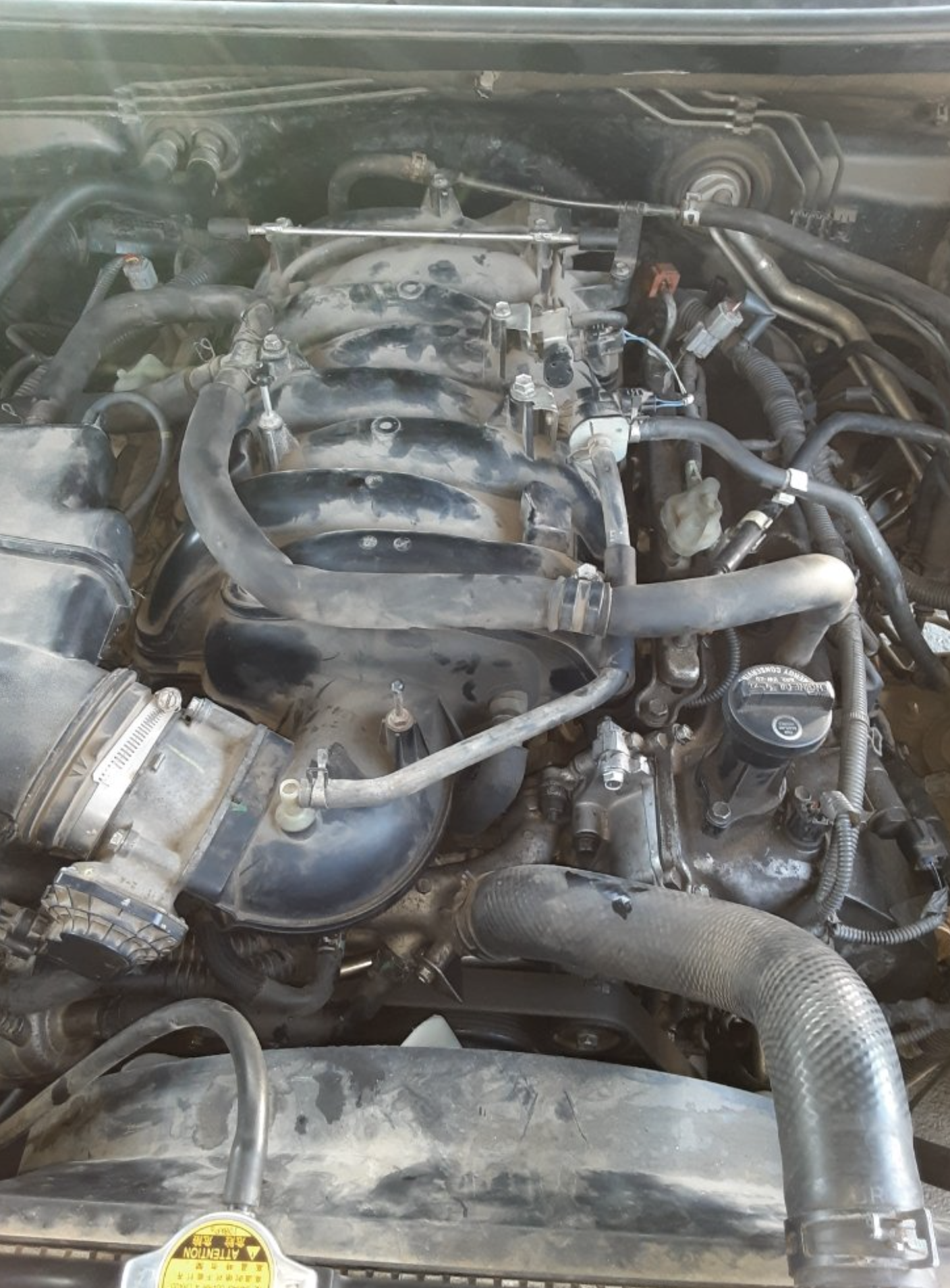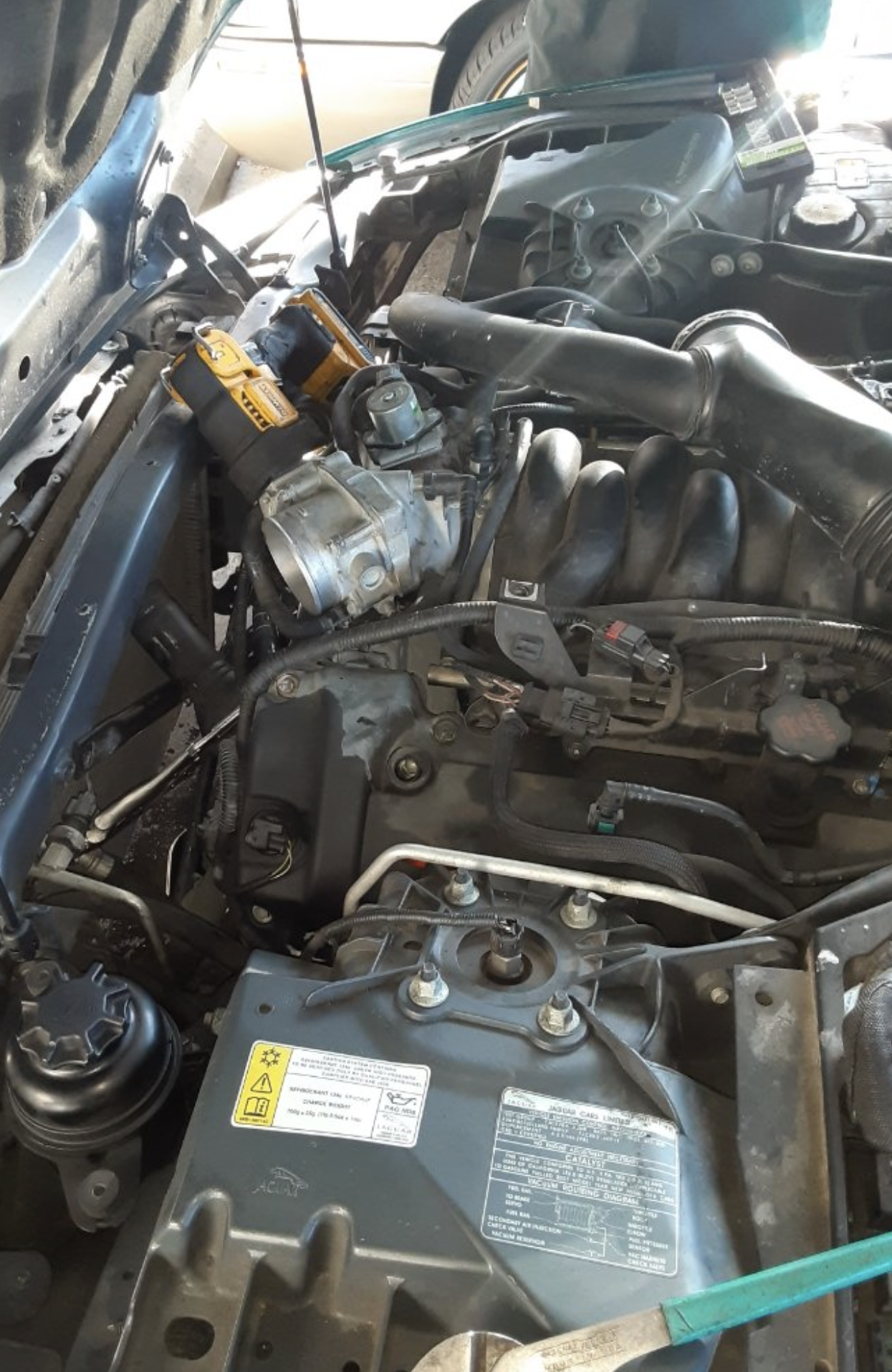 Electrical Issues
At West Palm Beach Mobile Mechanic, our outstanding electrical repair service has been meticulously crafted to cater to the entirety of your vehicle's electrical demands, resulting in a driving experience that is seamless and devoid of troubles. Whether it's the replacement of alternators or sensor modules, attending to lights or spark plug wires, and even addressing those seemingly modest yet pivotal components such as the dashboard's cigar lighter, we possess the know-how to handle each task proficiently.
Our cadre of certified mechanics boasts a specialization in promptly diagnosing and effectively resolving electrical quandaries, all within the confines of your chosen location. We recognize the gamut of electrical issues, spanning from minor irritations to substantial disruptions. This awareness propels us to transport our expertise directly to your threshold. Be it a malfunctioning sensor module diminishing your vehicle's efficiency or a fractured light impacting visibility, our squad stands poised to dispense immediate and efficient resolutions. Bestow your trust upon West Palm Beach Mobile Mechanic, the vanguard of preserving your vehicle's electrical system at its prime, consequently ensuring your safety and serenity as you journey along the road ahead. Don't hesitate to reach us at (561) 331-5831 and get free estimates today.
Brake Service
Issues with brakes are nothing to put off. When you're speeding down the A1A on your way to a Marlins game (or is it the Heat?), a terrifying feeling takes hold when you press the brake pedal and the car just keeps on speeding. Looks like you're going to miss Tanner Scott work his stuff on the mound.
Signs your brakes are getting ready to troll you include:
A soft or mushy pedal

A grinding noise near the tires (the pads are just about gone)

A hard pedal that feels blocked by a rock

A pedal you need to pump repeatedly to make work
However, there's no need to postpone until you find a moment to visit a conventional garage. The team at West Palm Beach Mobile Mechanic is readily available to offer assistance. We arrive directly at your driveway, ready to rectify any issues that may be affecting your brakes. So feel free to contact us, and make the A1A a safer road to travel. Just give us a call at (561) 331-5831 to get free estimates today.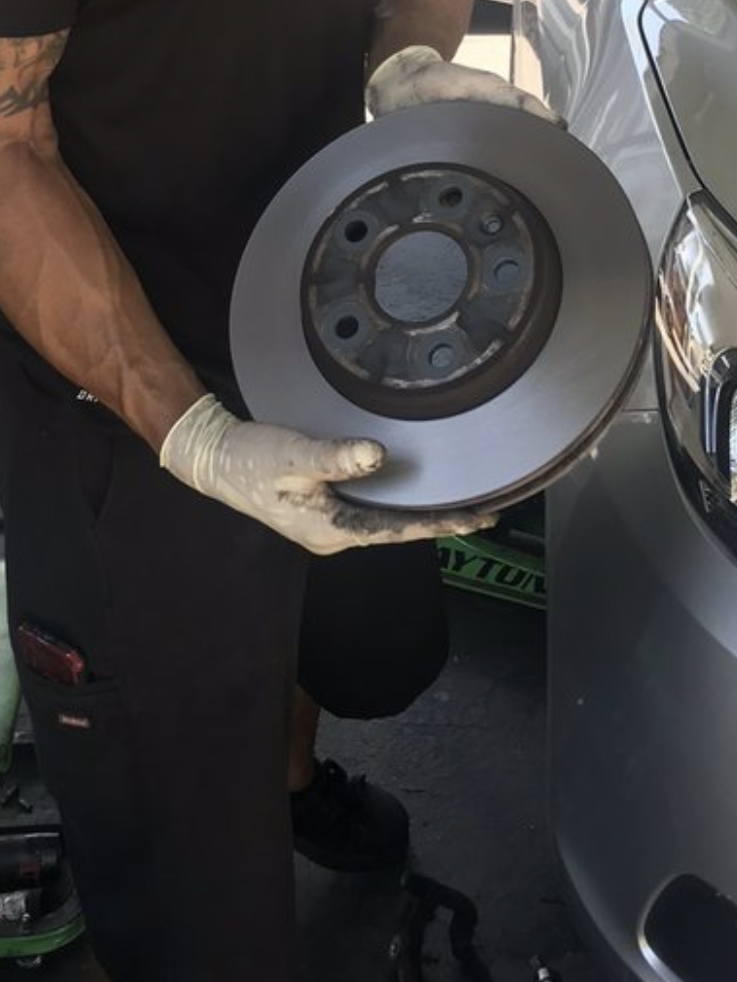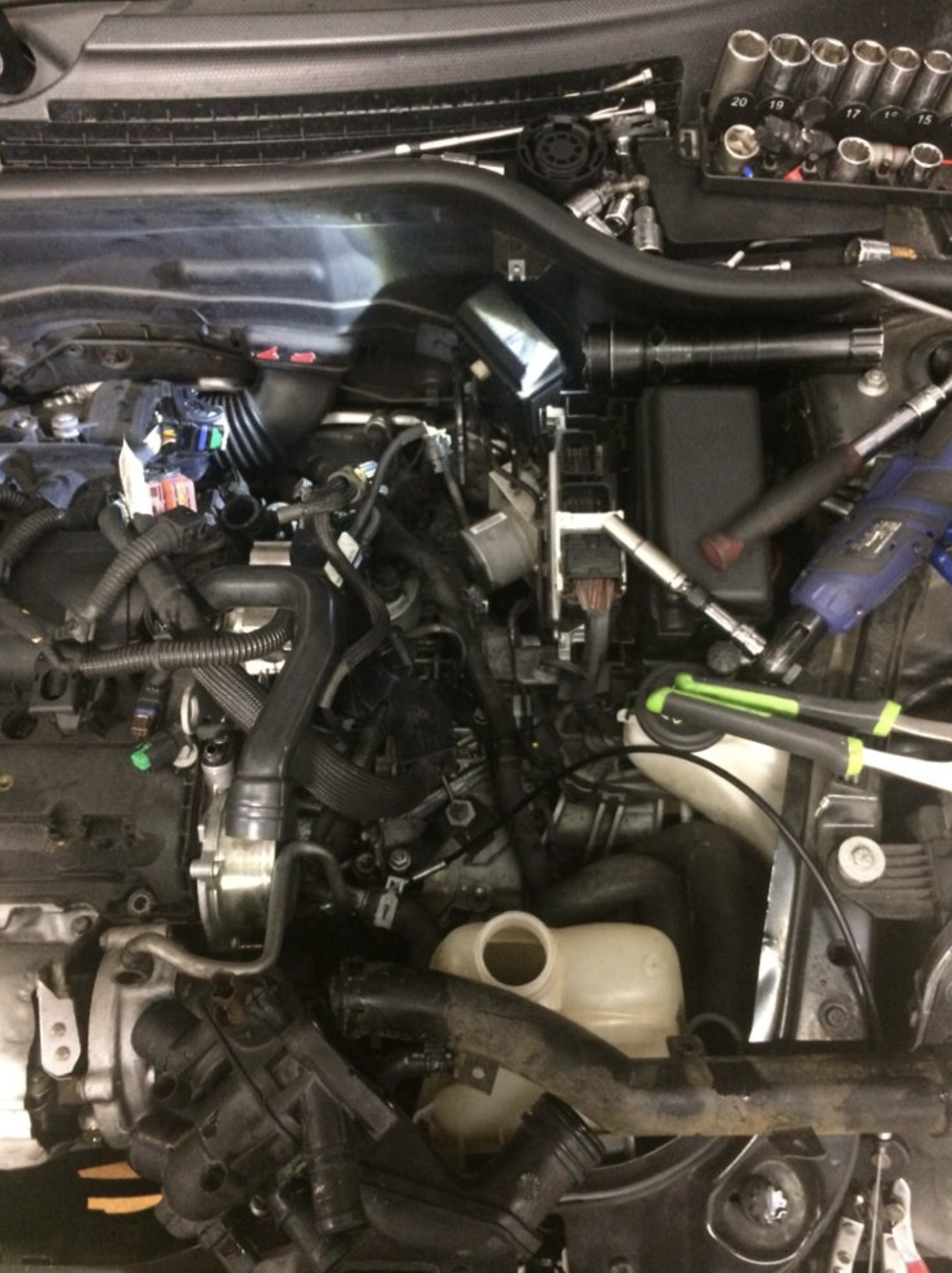 Tune-ups
A lot of things get checked and replaced during a tune-up. These include:
Spark plugs and spark plug wires

Filters

Oxygen sensors

The PCV valve
Should your vehicle's maintenance schedule dictate, an oil change might also be in order. The adept crew at West Palm Beach Mobile Mechanic manages every aspect of this task, affording you the luxury of enjoying it all from the convenience of your abode. With a lengthy history of performing such tasks, we've honed our expertise across a spectrum that includes sedans, vans, SUVs, and even those sprightly two-seater sportsters that are so fun to shift.
If you seek a comprehensive tune-up that undoubtedly benefits your vehicle, waste no time in contacting West Palm Beach Mobile Mechanic today.
Tire Changes
It's a scenario that has unfolded for even the most adept of us: You step outside after savoring your morning donut and coffee, all set to confront the tasks of the day, only to be greeted by the disheartening sight of a deflated tire.
Here you are, dressed in your work attire, not remotely prepared to grab a jack and change a tire. Instead of resorting to that, place a call to our team. We'll swiftly make our way to your location, armed with either a fresh tire or the necessary equipment for utilizing the spare concealed in your trunk. Whichever way you look at it, your day remains salvageable, as we possess the proficiency to change a tire at a pace that rivals even the speed of a spring break party—well, almost. Call us today at (561) 331-5831.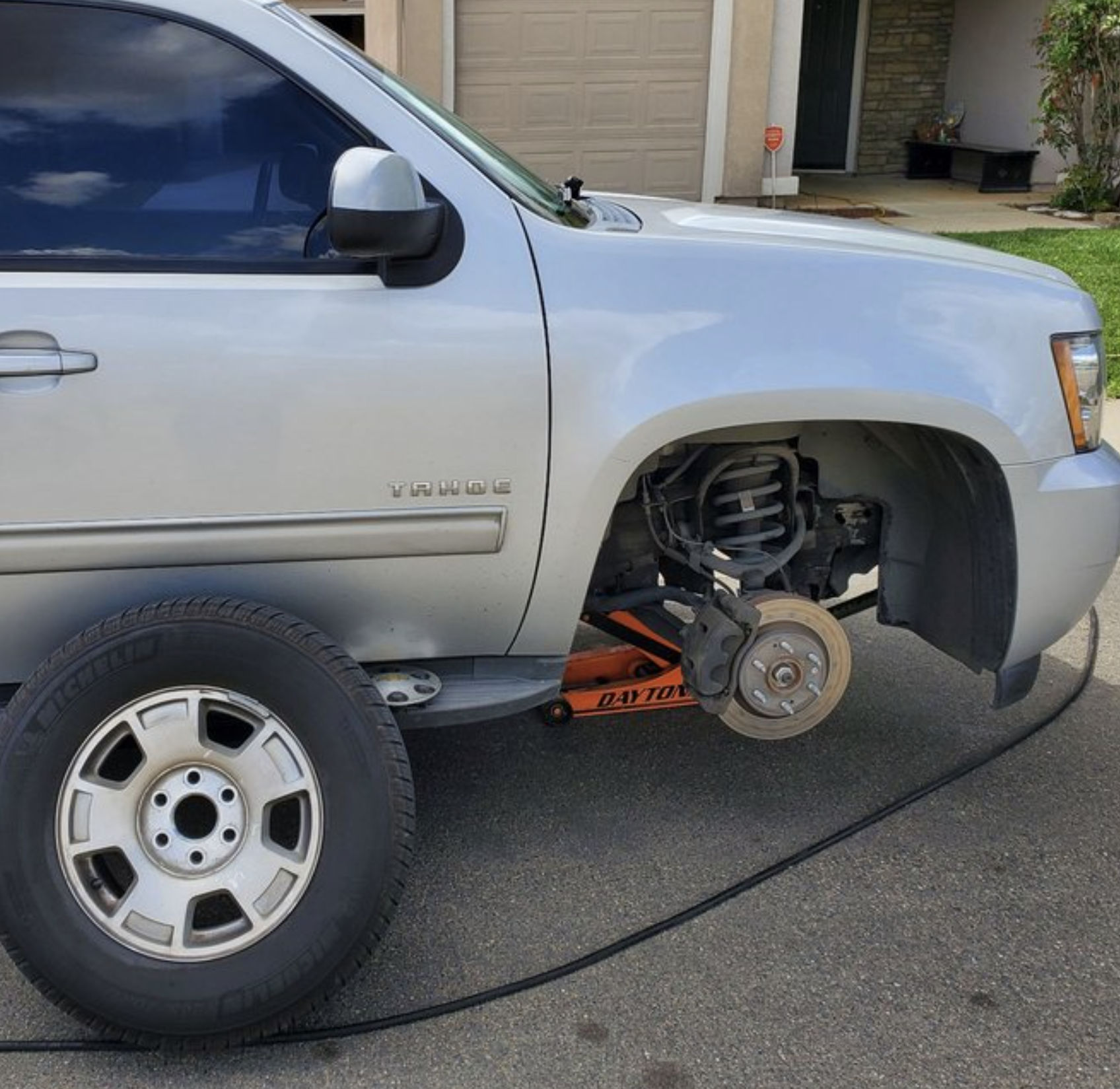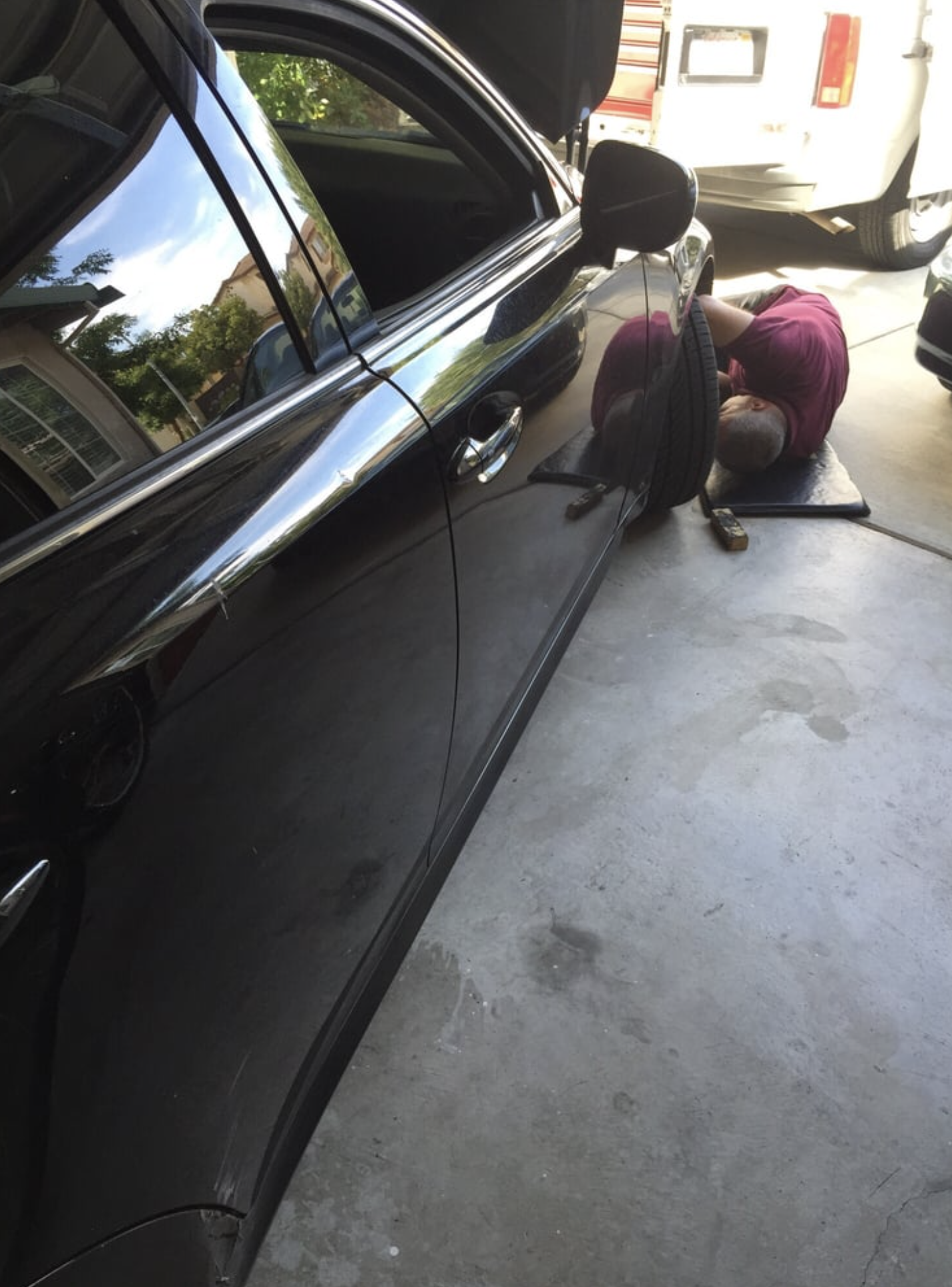 Too Much Sun? Not A Chance
At the core of our mission, our focus revolves around genuine care and profound respect for our esteemed clientele. Our mechanics aren't solely skilled professionals; they're affable individuals always open to engaging in conversation and readily addressing any inquiries you might have regarding your vehicle.
Our primary emphasis lies in ensuring the proper repair of your wheels, and our commitment to honesty is evident in every facet of our operation. We proudly display our straightforward pricing, devoid of any concealed extra fees, and we eschew any slick sales tactics for unnecessary add-ons. Our advice originates directly from our expertise, geared toward ensuring the enduring safety and optimal condition of your vehicle for the long journey ahead.
At West Palm Beach Mobile Mechanic, you're far more than just a task on our agenda. Choosing our services means enlisting a team of approachable experts who are fervently dedicated to furnishing you with unparalleled service. We're staunch advocates of treating you like family, affording you the respect you rightfully deserve from the very outset to the final touch.
A Team You Can Trust
West Palm Beach Mobile Mechanic derives pleasure from embodying a premier mobile team dedicated to rectifying vehicles, poised to cater to our esteemed clientele. Our ensemble comprises ASE-certified automotive enthusiasts who possess both the knowledge and expertise required to address an array of vehicles – encompassing cars, trucks, SUVs, and crossovers. Our mission revolves around providing you with first-rate automotive tender loving care that fosters a trust akin to family.
We grasp the paramount importance of possessing reliable wheels that never falter, comprehending the disruption a malfunctioning vehicle can inflict upon your day-to-day routine. To quell the turmoil caused by such predicaments, we are a service station in Los Angeles that arrives at your doorstep, efficiently reinstating your vehicle's functionality in the blink of an eye. Dial (561) 331-5831 today.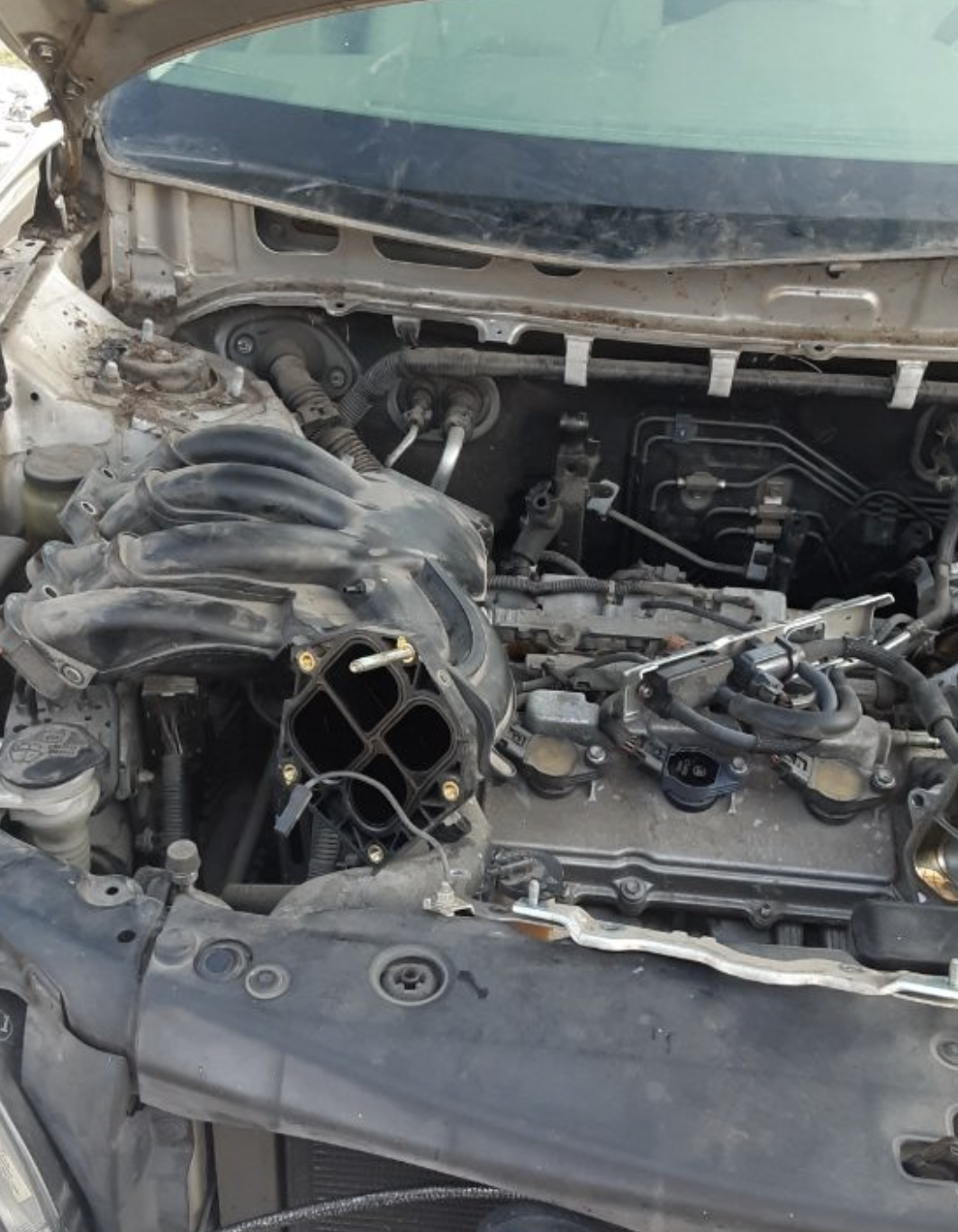 Satisfaction Guaranteed!
West Palm Beach Mobile Mechanic offers unparalleled convenience and expertise in the world of automotive care. With a commitment to bringing the repair shop to you, our skilled technicians arrive at your location, saving you time and effort. With transparent pricing, personalized attention, and a range of services, West Palm Beach Mobile Mechanic ensures top-quality repairs without the hassle of traditional auto shops.

Choosing West Palm Beach Mobile Mechanic was the best decision I made for my car. The technician arrived at my house on time and quickly diagnosed the problem. They had all the necessary tools and parts, and the repair was done efficiently.

My car had been giving me trouble, and I was dreading the whole repair process. Luckily, the mechanic was professional and courteous, and they fixed the issue right in my driveway. It's so convenient not having to drop off my car and wait around.

I had an amazing experience with their team! Their convenience factor is a game-changer – the mechanic came to my office and fixed my car while I was working, saving me so much time. They took the time to explain the repair process to me.
Call Us Today
At West Palm Beach Mobile Mechanic, our mission revolves around providing top-tier mobile automotive services across the expanse of Palm Beach County. Our team of experienced mechanics possesses a comprehensive understanding of a wide spectrum of vehicles – spanning from cars and trucks to motorcycles and even watercraft.
We acknowledge that mechanical glitches have a penchant for emerging unexpectedly, causing a sense of helplessness akin to being stuck in a rut. To counteract this exasperation, we're transporting our fully-equipped workshop right to your doorstep, conducting repairs on your vehicle wherever it's stationed.
Whether your brakes are exhibiting anomalies, your electrical system is displaying inconsistencies, your tires need care, or your engine is voicing its discontent, we boast the skills and tools necessary to rectify these issues swiftly and efficiently. There's no necessity for vehicular troubles to disrupt your activities – reach out to us today at (561) 331-5831, and we'll ensure that everything under your vehicle's hood functions smoother than a Heat championship run.